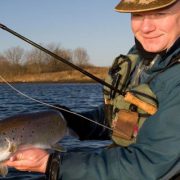 BasKette stripping basket is definitely the best line basket I've ever tried. It always sits perfectly perpendicular and fixed to the body. It is never filled with water, either by deep wading or when I'm fishing in wave (what I love to do). BasKette stripping basket has really increased my radius through extra throw and far less mess up the line on the days where the weather shows its teeth.
BasKette stripping basket is slightly heavier than other curve, but it felt not at all when it is excited – because it sits so perfectly, without hanging and flopping.
BasKette is certainly the curve of the coast experienced fly fisherman who, like I will not miss a single fish because of gear or challenging weather. It is for him or her who already have a conventional stripping basket and experienced the limitations of such. BasKette stripping basket shaving off a sizable portion of the restrictions away.
There is no doubt that it has secured me several extra fish and far fewer line problems. I am very impressed and will not return to my old basket again.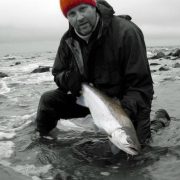 I was very excited when Claus Eriksen sent me the new stripping basket to Germany. Today was the right day to test and I must say… I like it.
My Orvis basket is also a good one but the baskette has some good improvements. What I really like is the separate fastening of the belt, the different rod holders and with the holes you do not have allways to distribute the water.
Sure… you catch not more fish but it's an more relaxed fishing. Maybe the belt can have some cm more… specially for king size people, in winter with a lot of clothes and Neoprenwaders the belt might be too short.
The price is certainly high but it's handmade… so 9 out of 10 points from me.
Demo videos
These videos are in Danish, and will soon have English subtitles
Pictures of BasKette in use